What's the difference between the three main DT Swiss hubs 350/240/180?
If you're in the market for a new carbon wheelset, it's important to understand that wheels are made up of several different parts. Firstly you have the rims, which are where the tires sit and the closest contact point to the ground. Secondly, the spokes which come from the rim and connect to the hub in the center. Then finally, the hubs which connect the carbon wheels to the bike itself and provide the wheels the ability to rotate freely and also engage when you pedal.
The hubs are essential to a good set of carbon wheels, and it's the part where you will not want to go cheap or cut corners. One of the biggest brands when it comes to hubs is DT Swiss, and they are known for making some of the best hubs available. A question we often get asked is, what's the difference between the three main DT swiss 350/240/180? In this article, we're going to answer that question for you for the road hubs, we will look at MTB in another article.
Who are DT Swiss?
The name DT Swiss comes from the French and German name for wireworks – Drahtwerke Tréfileries. They have been creating excellent cycling components since 1994 and are known for their precision engineering and high-quality products. DT Swiss mainly focuses on hubs but also makes carbon wheels and other components such as suspension.
What is the difference between the hubs?
The hubs DT Swiss makes don't just differ in one way. They actually differ in several ways, such as weight difference, body design, and even have very different internals. Let's break all the DT Hubs down to help you choose the right system for you. DT Swiss hubs can be used with many different types of bikes, including mountain bikes and you can get these made with all different axle types, end caps and choose between different brake disc mounts.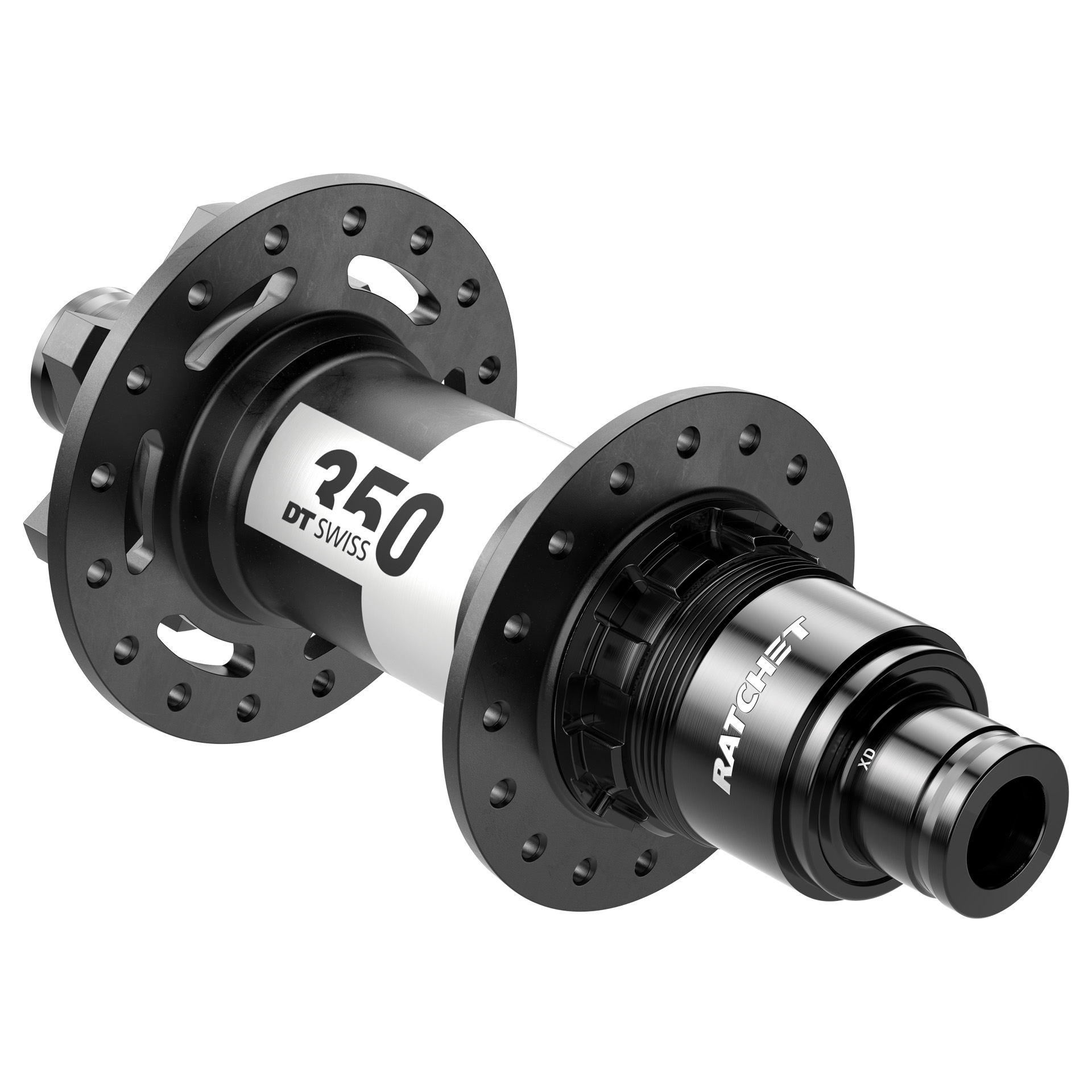 DT Swiss 350
Ratchet System: 18T or 36T Classic
Cost: Low
Weight: 249g
The DT Swiss 350 is the cheapest of the three DT hubs we're speaking about today. It's a great looking hub that comes in a gloss black with white detailing that can be removed to look super clean. It has a 36-tooth ratchet system which is a simple yet sophisticated. It gives great rolling performance and can be worked on and maintained easily without special tools. It can also be converted to other standards, including a 54-tooth upgrade, easily making it a very user-friendly and adaptable hub.
Coming in at only 249g with a SRAM freehub, although very lightweight, it is still the heaviest hub on this list. It uses the older ratchet system, and you can use 18t, 36t, or upgrade the hub to 54t if required. Out of the three hubs, it is the most basic and the heaviest, but it does still offers excellent performance, is very easy to maintain, and comes in at an incredible price.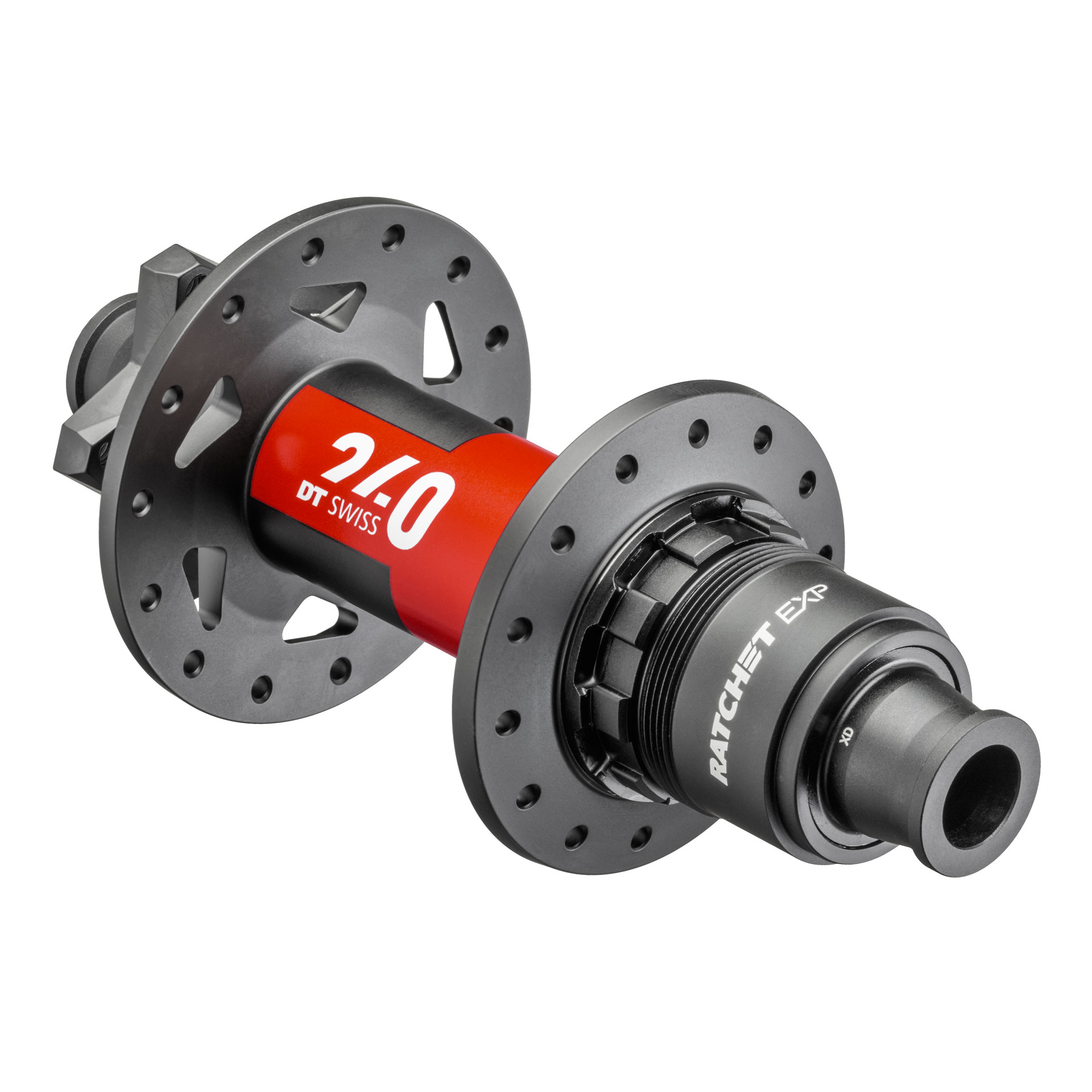 DT Swiss 240
Ratchet System: 36T
Cost: Mid-range
Weight: 215g
Now we come to the DT Swiss 240. This is a hub made for cyclists with extreme ambitions. The hub comes in a beautiful matt black with red detailing, which unfortunately cannot be removed. It has a 36-tooth engagement system as standard, which can be easily maintained by people themselves without the need for special tools, and upgraded to the 54-tooth if you want something more engaging. People who want a hub that offers a little more than the DT Swiss 350 go for the DT Swiss 240.
The DT Swiss 240 is an incredible hub, and coming in at only 215g with a SRAM freehub body is very lightweight. The new DT upgraded ratchet EXP system gives it an increased bearing distance, meaning the bearings last much longer, so less maintenance is required. It also has a straight spring to improve engagement time, reducing wear over time. It's a performance hub at a mid-level cost, and we highly recommend it if you want performance on a budget.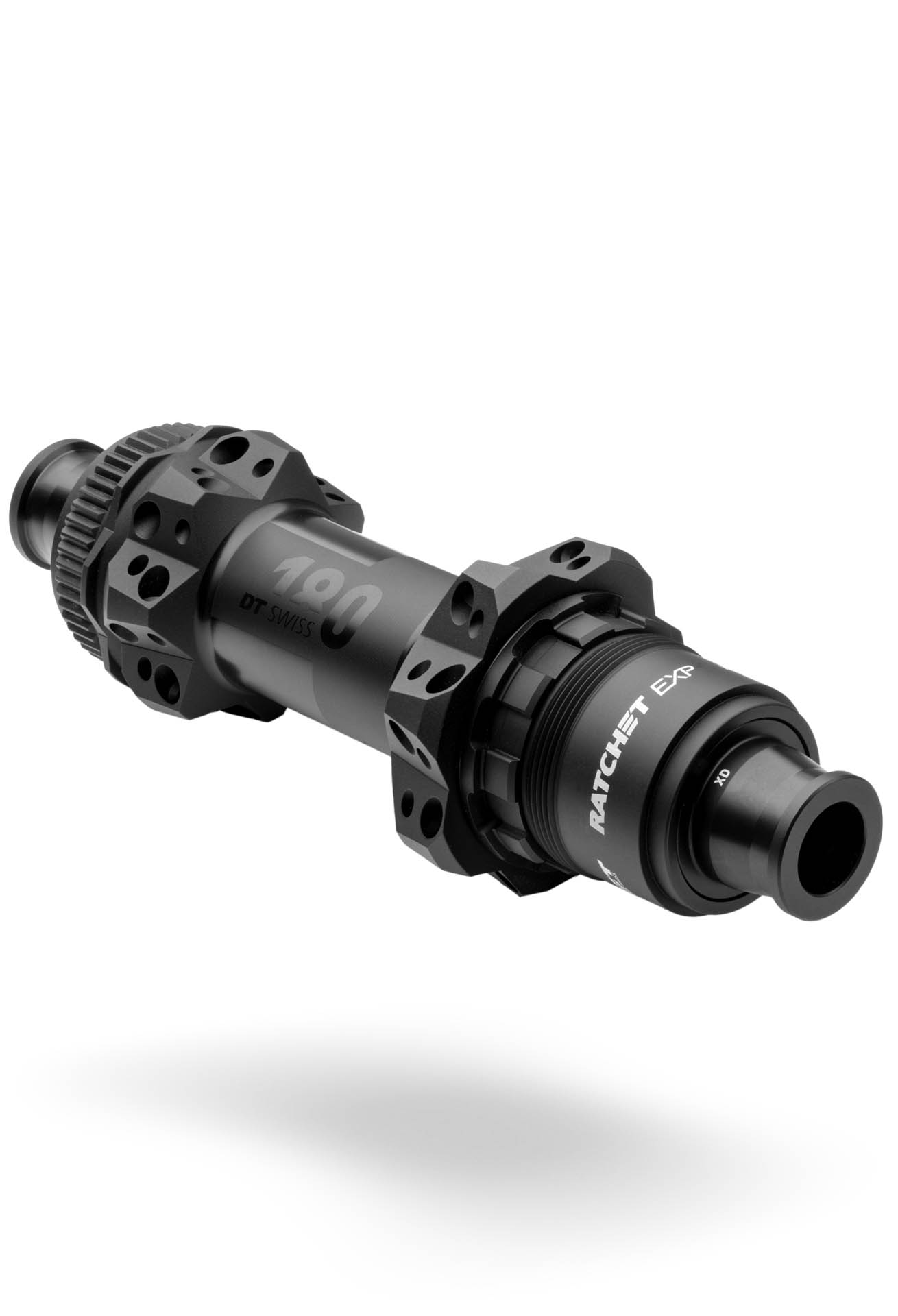 DT Swiss 180
Ratchet System: 36T
Cost: High
Weight: 186g
The DT Swiss 180 is for the rider that wants every advantage possible and is happy to spend a little more cash. It comes in a stealthy matt black appearance and offers incredible performance with the ratchet EXP system. As standard, like the 240, it comes with a 36-tooth, but this can be upgraded to a 54-tooth system. The 180 is lighter, stiffer, and has less rolling resistance as it uses SINC ceramic bearings.
Coming in at 186g with a SRAM freehub, it is incredibly lightweight and, with the reduced rolling resistance, could be the difference in a pro race between second and first. These hubs can only be used with straight pull spokes, not J bend. You will feel the extra stiffness when riding, and most riders say losing the extra weight on the wheels goes a long way. If you're not worried about budget and want the best performance possible, the DT Swiss 180's are your best option.
Comparing the Hubs
We 100% stand by our own hubs for all round performance but we know people sometimes want more choice, as always we want to meet the needs of as many riders as possible.
If you're looking for an incredible performance hub, then the DT Swiss 180 is going to save weight on your bike and help reduce that rolling resistance with the ceramic bearings. The only drawback you'll find is the price. They are the most expensive by far, costing as much as triple for a set compared to the DT Swiss 350.
If you want to keep the budget down, the DT Swiss 350 or our hubs are perfect for you. They are an excellent front and rear hub, although a little heavier and with a tad more rolling resistance.
If you want something in between and crave some performance but don't want to push your budget higher, then the DT Swiss 240 is the ideal. It is lighter than the 350 and uses the ratchet EXP system, but they are not as light as the 180 and comes without ceramic bearings. The DT Swiss 240 is a great option for a mix of price and performance.
We have come up with the table below in which we try to balance performance and price for an overall rating for each type of riding.
| | | | | |
| --- | --- | --- | --- | --- |
| Hub | Pricing | Cruising | TT'ing | |
| WS | $ | **** | **** | **** |
| DT 350 | $$ | **** | **** | ***** |
| DT 240 | $$$ | ***** | **** | ***** |
| DT 180 | $$$$ | ***** | ***** | **** |
Conclusion
Hubs are the most vital part of a wheel and have to not only let the bike coast forward in one direction but also engage it in the other. They have to be stiff, strong, lightweight, and incredibly durable. The DT Swiss are excellent, and we highly recommend them. Which one you pick goes down to the riding you plan to do and the budget you have.
Want some help with carbon wheel selection?
It is vital that you have the right carbon wheels for your riding style. With so much hype out in the market it can hard to know which wheels are right for you.
At Wheelscience we are riders too, so we want to make sure you have the right tools for the job.
We've put together a short questionnaire to help select the right wheels for you.
If you are after track wheels -please click here.
If you would rather just email than please do. Peter@wheelscience.com
You can also see what some of our riders have been up to on our RIDERS page HERE
---